Thank you to the producers listed as providing their excellent extra virgin olives oils for Savantes events in the USA. These and all the other producers who supply olive oils for tasting at Savantes events around the world consistently produce high quality products and are committed to promoting increased consumption.
Through their effort and the patronage of participants Savantes has successfully expanded the appreciation of extra virgin olive oil for almost twenty years. We will continue to do so through expanded and innovative events in future years, especially in the appreciation of flavours in food.
Silver. Gold and Platinum Associate Savante Certificates will now be awarded to Associate Savantes who successfully complete the Savantes Skills Review two, three and four times respectively.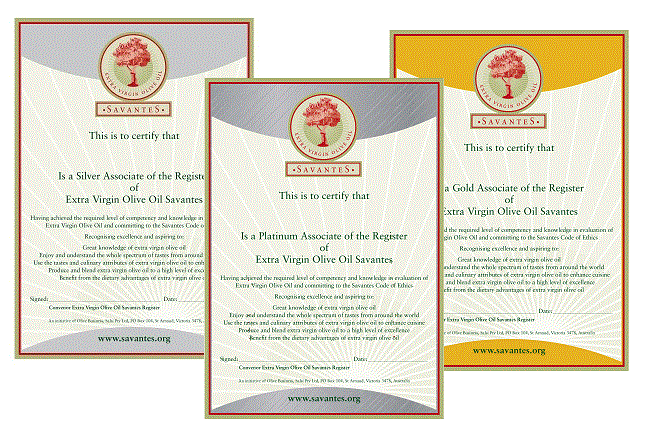 The 'Frequent Tasters' Savantes programme is designed to recognise the tasting competency and knowledge of Associates who actively maintain their level of tasting competence and knowledge. The Certificates will also be presented retrospectively to Associates. The presentation will take place on the next occasion that an eligible Associate takes the Savantes Review.
Read more: Savantes Introduces Enhanced 'Frequent Tasters' Recognition for Associates
---