Presented by International Extra Virgin Olive Oil Savantes
in association with
Association for Quality Control of the Oils of the Region of Priego de Cordoba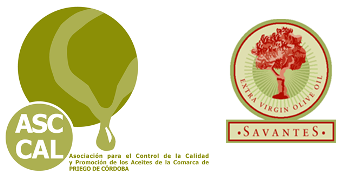 Priego de Cordoba, Spain, Friday 4 October, 2019 and Saturday 5 October, 2019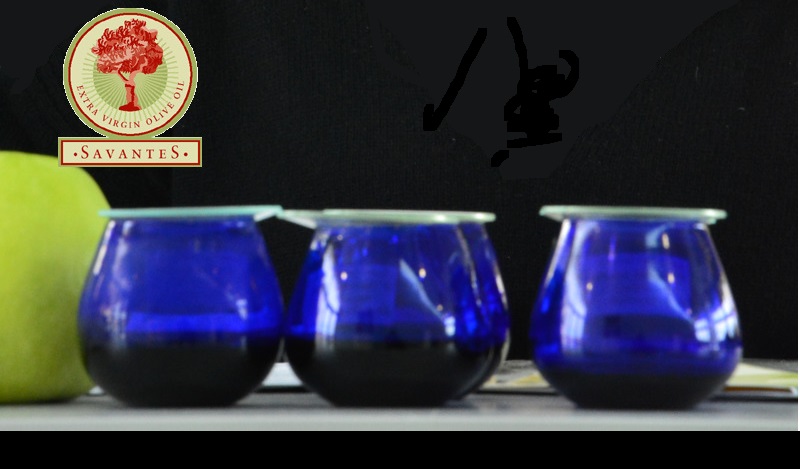 Welcome to the Inaugural Extra Virgin Olive Oil Tasting Team World Cup, the culmination of four years of developing National Championships in Spain, France, Greece and USA.
The World Cup will bring together leading tasting teams from producing and consuming countries to compete in an event which will test ability and knowledge using some of the leading extra virgin olive oils from the northern and southern hemisphere.
The purpose of the event is to build respect amongst producers and consuming countries, increase ability amongst all operatives in the olive oil industry, expand international networks and to recognise and celebrate excellence.
The World Champion team will be invited to defend their title at the Second World Championship in Kalamata, Greece, scheduled for late September 2020.
The rules and conditions of the World Championship are available at Championship Rules and Programme
Read more: Savantes Extra Virgin Olive Oil Tasting Team World Cup
Savantes Returns to New York with Leading Extra Virgin Olive Oils
Extra Virgin Olive Oil Savantes - New York, USA
31 October to November 1, 2019
Taste the World's Leading Extra Virgin Olive Oils
and
Discuss Markets, Health Benefits, Culinary Uses and Quality Standards.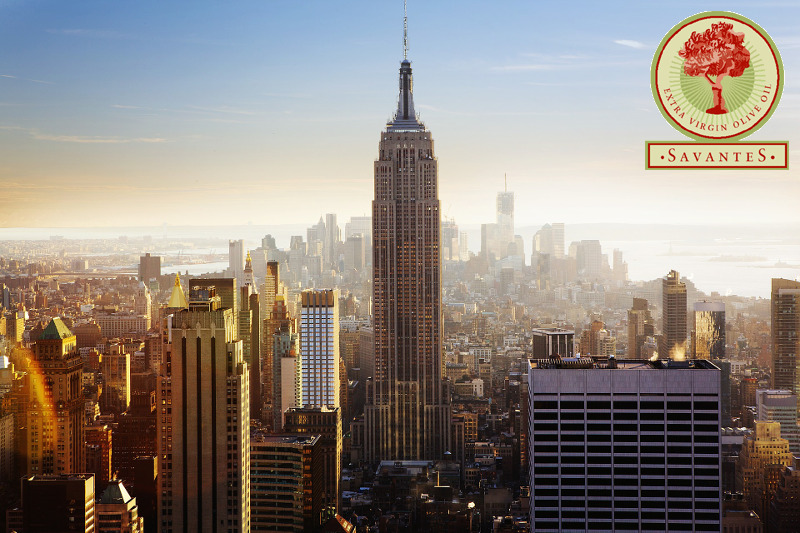 Excellent Extra Virgin Olive Oil, Valuable Knowledge and Good Company makes Extra Virgin Olive Oil Savantes Much More than Tasting
Provides opportunities to improve personal tasting knowledge and confidence
Through its tasting skills review recognises and rewards competency
Is unaligned and independent
Is an international movement connecting people in many countries; and
It fosters respect for the products of all producing countries
Savantes Review and Recognition
Introducing a day of skills review exercises and giving recognition as Associate Savante or Savante if you achieve the prescribed scores (read more about the Register of EVOO Savantes)
Open to anyone who wants to review their tasting ability on a worldwide scale.
Thank you to the producers listed as providing their excellent extra virgin olives oils for Savantes events in the USA. These and all the other producers who supply olive oils for tasting at Savantes events around the world consistently produce high quality products and are committed to promoting increased consumption.
Through their effort and the patronage of participants Savantes has successfully expanded the appreciation of extra virgin olive oil for almost twenty years. We will continue to do so through expanded and innovative events in future years, especially in the appreciation of flavours in food.
Silver. Gold and Platinum Associate Savante Certificates will now be awarded to Associate Savantes who successfully complete the Savantes Skills Review two, three and four times respectively.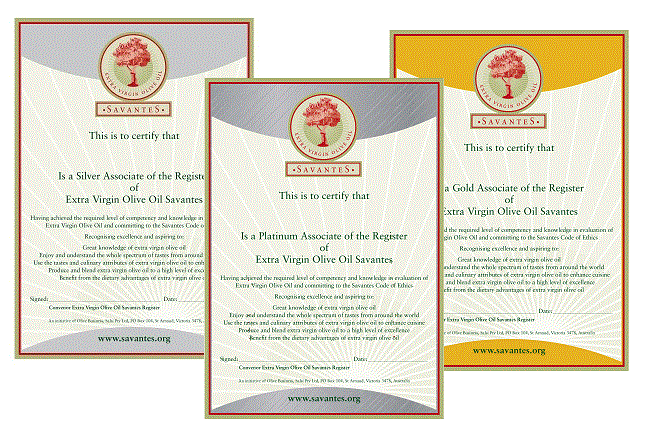 The 'Frequent Tasters' Savantes programme is designed to recognise the tasting competency and knowledge of Associates who actively maintain their level of tasting competence and knowledge. The Certificates will also be presented retrospectively to Associates. The presentation will take place on the next occasion that an eligible Associate takes the Savantes Review.
Read more: Savantes Introduces Enhanced 'Frequent Tasters' Recognition for Associates