Lux Magazine Award
Savantes, under the trading name Olive Business, has been awarded 'Olive Oil Experts of the Year – Australia' by the UK-based Lux Magazine in its annual Food and Drink Awards. Lux gives its readers a 'Glimpse into the World of the Glamorous', a view befitting the glamour of the flavour of high quality extra virgin olive oils to the senses, as beauty is to the eye.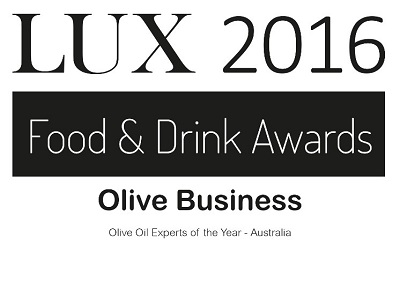 The citation from Lux states 'In 1997 Olive Business planted an olive grove, with the aim of producing extra virgin olive oil of the highest quality. We explore this legacy of olive oil production and how it has led to an international olive oil appreciation movement.' We are proud of this unsolicited award and thank all Savantes participants for helping us achieve it – it is your award! http://www.lux-intl.com/2016-lux-food-and-drink-awards-2016 
Team Tasting Championships
In pursuit of launching the first 'World Extra Virgin Olive Oil Tasting Team Championship' in 2018, Savantes has made progress with negotiations with countries who are potential participants. With a view to participation in 2018, the following countries have been invited to send participating teams or observers to the Spanish Championship to be held in Priego de Cordoba on 17 March 2017 – USA, France, Canada, Italy, Greece, Jordan, South Africa, Australia and New Zealand. National Championships are already held in USA and Spain. For Championship entry and rules go to www.savantes.org. 
French Extra Virgin Olive Oil Tasting Team Championship
The first French Team Tasting Championship will be held on Saturday 16th September 2017 in Gordes or Lançon in Provence. Details and registration will be added to the Savantes website early in 2017. 
Savantes and the Cuisiniers
In June 2017, Savantes in association with innovative English Chefs Olly Rouse and Joe Gould will launch Savantes and the Cuisiniers. The two-day programme will be held at the Seasons Cooking School in Winchester near London. Participants will be given a brief refresher on the flavour profiles of some of the best extra virgin olive oils from around the world – and then how to use them in food. The practical cooking will range from traditional dishes to modern molecular gastronomy. The 'Culinary Savantes Skills Test' will also be introduced to test the ability of participants in using the flavours of olive oil in cooking, those that achieve a certain score will be awarded the status of 'Culinary Savante'. Programme details will be available from the end of January 2017.
Savantes Programme Schedule 2017
Savantes has a full schedule for 2017 with 3-day programmes, tasting championships, cuisiniers and the Olive Oil Conference. The dates are as follows:
7-9 March – Seville Spain – Three-day Savantes Programme
17 March – Priego de Cordoba, Spain – Spanish Team Tasting Championship
22-24 March – Modena Italy – Three-day Savantes Programme
12-13 June – Winchester, UK – Savantes and the Cuisiniers
21-23 June – New York, USA – Three-day Savantes Programme
19-20 July – Chicago USA – The Olive Oil Conference
20 July – Chicago USA – USA Team Tasting Championship
16 September – Provence, France - French National Team Tasting Championship
Details of all events can be found at www.savantes.org 
A Happy and Bounteous New Year
To all those who support Savantes by supplying products for tasting, participate in our events, or collaborate in presenting them, we hope 2017 is a prosperous and bounteous year for you all.