26 March 2019, Seville, Spain
Hotel Becquer, 4 Reyes Catolicos, Seville, Spain
In 2001 Extra Virgin Olive Oil Savantes started as an idea, almost 20 years later International Extra Virgin Olive Oil Savantes has close to 100 Associate Savantes and Savantes worldwide. Savantes come from many pursuits in the olive oil and related industries and have all demonstrated skill and knowledge by passing the Savantes Review.
There over a thousand professionals who have participated in Savantes events and over 200 producers who have supplied extra virgin olive oils for tasting.
This highly talented and professional group from many countries provides a unique opportunity to create an environment where free thinking about the present and future of the olive oil industry is encouraged.
This is the purpose of the Savantes Renaissance Conference.It will also provide a unique opportunity for enhancing networks and making new friends across many regions and professional pursuits.
Savantes Review
The Conference will start with the Savantes Review Skills Test to refresh tasting ability and provide an opportunity to achieve Savante status.

Seville, Spain
25 March 2019
Hotel Becquer, 4 Reyes Catolicos, Seville, Spain
Savantes believes that a better understanding and appreciation of the flavours of extra virgin olive oil from varietals from different regions will make the industry more efficient by:
Fostering respect for products from different regions around the world
Improving the correct classification of olive oils by panels
Reducing the perception of defects which are different expressions of flavour by varietals
Increasing the number of Savante participants who achieve Savante status.
To encourage broader knowledge of varietals, Savantes will hold a day of tasting varietals presented by Savantes, Associate Savantes and Savante Producer/Suppliers from the relevant regions.
Presentations will be in English.
At each Extra Virgin Olive Oil Savantes tasting programme, participants taste a range of the world's best extra virgin olive oils.  The list below contains the oils tasted during the Extra Virgin Olive Oil Savantes tasting programmes held in Amsterdam, Netherlands and in New York, USA.  As always, we thank the producers, distributors and retailers who provide oils to the programme.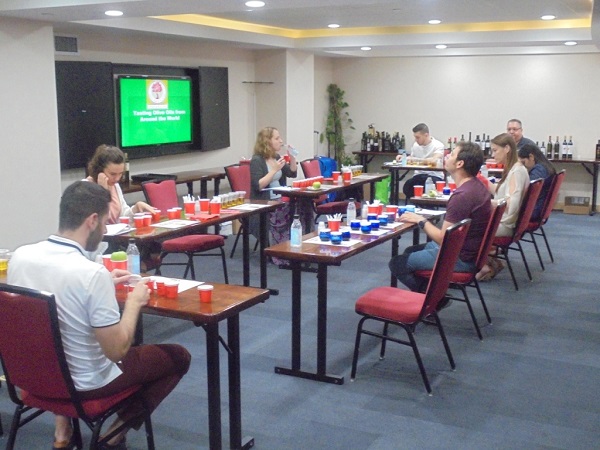 Read more: Oils Tasted at Savantes Amsterdam and New York (March 2018)
At Savantes in Manhattan New York, Joanne Lacina, President and founder of Olive Oil Lovers achieved a perfect score in the Savantes Skills Test. The test is standard wherever it is taken in the world and achievement of a perfect score is outstanding. The test comprises triangle tests, rancidity and intensity rankings, fault detection and identification of 8 varieties from regions around the world. The time allowed is one and a half hours.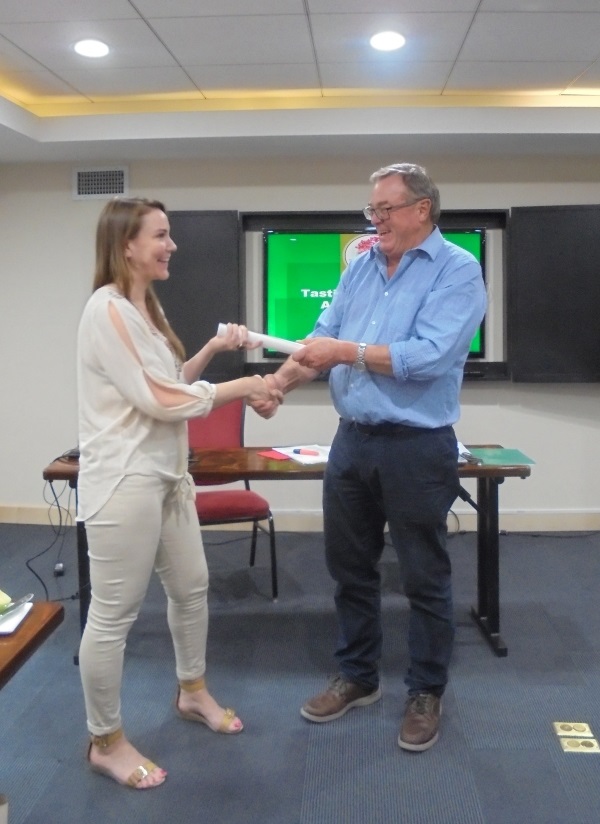 Joanne was presented with her Savantes Certificate by Simon Field, founder of Savantes, at the New York programme. He commented 'after many years of wondering whether the Test was too rigorous, my doubts have been set aside by a wonderfully accomplished professional in Joanne Lacina'. 
Read more: Savantes Welcomes the Third Full Member of the Savantes Register