5th to 6th March 2020, Madrid, Spain 
Taste Leading Extra Virgin Olive Oils from Around the World
Be Certified for your Tasting Ability and Knowledge
Discuss Markets, Health Benefits, Culinary Uses and Quality Standards  


Image by ddzphoto from Pixabay
Excellent Extra Virgin Olive Oil, Valuable Knowledge and Good Company makes Extra Virgin Olive Oil Savantes Much More than Tasting
Provides opportunities to improve personal tasting knowledge and confidence
Through its tasting skills review recognises and rewards competency
Is unaligned and independent.
Is an international movement connecting people in many countries; and
It fosters respect for the products of all producing countries
Savantes Review and Recognition
Including skills review exercises and giving recognition as Associate Savante or Savante if you achieve the prescribed scores. For Associates who successfully complete the tests more than once, Frequent Tasters recognition as Silver, Gold or Platinum Associate status will be conferred.
Open to anyone who wants to review their tasting ability on a worldwide scale.
Modena, Italy – Seville, Toledo, Spain – London, United Kingdom – New York, Chicago, Minneapolis, USA – Sydney, Melbourne, Australia – Auckland, New Zealand – Cape Town, South Africa – Dublin, Ireland – Amsterdam, Netherlands
The Savantes Rubric
(Rubric - a printed set of criteria for assessing knowledge, performance or product and for giving feedback).
An important element of the programs is to review and recognise the tasting skill of participants. As the Savantes rubric describing flavour and scoring those undertaking the review is consistent around the world at all events, the recognition of skill gives an international comparison. The two levels of recognition and Certification are Associate Savante and Membership of the Register of Extra Virgin Olive Oil Savantes with full Savante status. Currently there are over 100 Associate Savantes and seven Savantes – two from Spain and USA, one each from South Africa, France and Greece. Associate Savantes are domiciled in Spain, USA, Australia, New Zealand, Canada, Ireland, France, Greece and Netherlands.
In 2019 over 200 tasters undertook the Savantes Review with 20% achieving Associate Savante status.
Savantes is Worldwide
Savantes has grown into a worldwide movement presenting intensive extra virgin olive oil tasting programs, valuable marketing information and co-organising conferences and team tasting championships. These programs have been, and continue to be, presented annually in Australia, USA, Spain and Italy. Occasionally, when demand warrants it, the program is also presented in New Zealand, South Africa, England, Ireland and Netherlands. Some of the compelling reasons to be involved in the Savantes program are that Savantes:
Provides opportunities to improve personal tasting knowledge and confidence
Through its tasting skills review recognises and rewards competency
Is unaligned and independent.
Is an international movement connecting people in many countries; and
It fosters respect for the products of all producing countries
Savantes does not accept sponsorship or any other inducement from third parties, commercial or institutional. The olive oils used in all programs are selected on merit, including flavour and service, from all the producing regions around the world. 
The Extra Virgin Olive Oils you will taste
The olive oils provided for tasting include extra virgin olive oils which are ranked amongst the best in the world. The ranking is calculated each year from awards won in the most rigorous competitions worldwide.
Extra virgin olive oils from many regions are available for tasting with special emphasis on regional varietals. The oils are provided 'pro bono publico' by producers in support of the ethos of Savantes.
Producers and suppliers of the extra virgin olive oils are sent detailed tasting notes after each program. Attendees are given a list of the oils tasted and contact details of the suppliers.  
Certification and Register of International Savantes
Savantes believes that the future and integrity of the olive oil industry will be boosted by recognition of tasting talent. Recognition should be accessible to everyone involved in the production, distribution and retailing of extra virgin olive oil, not only those who are able to become members of established institutional tasting panels.
Savantes recognition of tasting capability has already benefitted many participants through better product quality control, career advancement, inclusion on tasting panels, and more sales.
Savantes believes that attending a course is one step towards acquiring expertise and that true expertise must be demonstrated by achieving prescribed scores in a series of skills tests such as the Savantes Rubric.
Savantes Review and Recognition
Savantes has introduced the Savantes 'Review and Recognition' session. Attendees will be able to undertake skills tests, be given their results in confidence, and recognised as Associate Savantes or Savantes if they achieve the prescribed scores.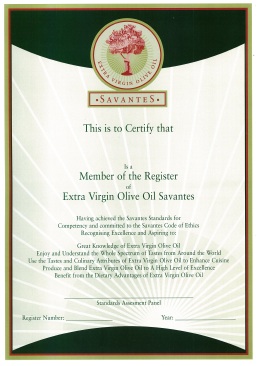 Certificate of Attendance
All participants in the full Savantes program receive a Certificate of Attendance at the conclusion of the last session.
External Recognition
The success of the Savantes initiative has been recognised internationally by important organisations. QvExtra!, the leading Spanish producer association, has conferred the honour of 'socio colaborador', or cooperating partner and Lux Magazine Food and Drink Awards in the United Kingdom has awarded Savantes with 'Olive Oil Experts of the Year – Australia'.
More recently Savantes was invited to make a special presentation at the Italian Cultural Institute in Los Angeles to mark the 150th anniversary of Filippo Berio. Savantes founder and presenter, Simon Field, presented a tasting of Mario Solinas Award winners at a European Union Delegation to the USA roundtable and tasting 'Ensuring EU Olive Oil Quality' on Capitol Hill in Washington for Congressional aides and trade emissaries.