Introducing the Savantes Rubric Review and Recognition
Almost 200 Tasters will have undertaken the Savantes Skills Test in 2017 with approximately 25% achieving Associate Savante status and 1% full Savante status.
Moderated across all countries by Savantes representatives, the newly named 'Savantes Review and Recognition' skills tests have become an important measure of tasting ability and knowledge. The Associate Savante certification is set at a level which recognises core tasting capability with intensity rankings, defect detection and ranking and taste variation. Savante status is set at a higher level which shows a mastery of core skills and knowledge of the varietals from regions around the world.
Certification has helped advance the professional careers of tasters as well as selecting and training distributors and marketers.
Revision of the Savantes Programmes
In 2018 the Savantes programmes will be concentrated into two days with the same presentations and exercises made possible by shorter breaks and earlier starts.
The third day of each programme will comprise multiple sessions of the Savantes Review open to anyone who wishes to have their tasting capability reviewed and recognised. 
November 22-24 Savantes Programme, Melbourne, Australia
Not many places left on the Melbourne programme. Participants are coming from all over Australia, New Zealand and France. A great collection of extra virgin olive oils from all over the world will be offered for tasting. 
March 7-9 Savantes Programme, Amsterdam, Netherlands
In a move to attract participation from the consuming regions of northern Europe, Amsterdam has been selected for the next Savantes Programme in Europe. To be held at the funky Tire Station hotel, the programme will be the first of the new Savantes Rubric, Review and Recognition.
Savantes Amsterdam, Netherlands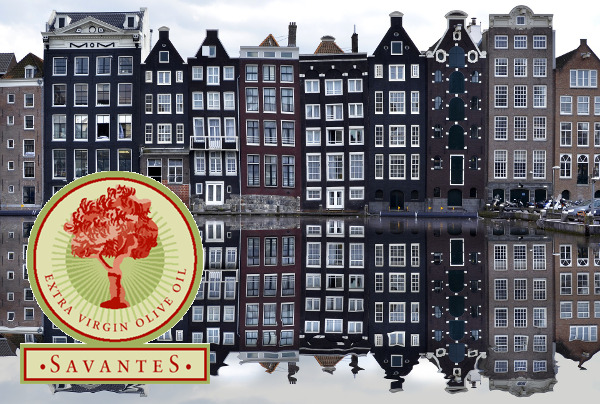 March 14-15. Seasons Cooking School for Savantes and the Cuisiniers
The highly innovative and exciting Savantes and Cuisiniers programme will be launched in Winchester in the United Kingdom on March 14-15 2018.
It is for everyone, especially those looking for new ways to present olive oil at trade shows, to clients, in foodservice and at home.
Bringing the combination of the culinary skill of Chefs Olly Rouse and Joe Gould, and the olive oil knowledge of Simon Field, the course will be practical and fun.
Designed to take olive oil tasting to the next level, the two-day programme is all about using extra virgin olive oil in food. Modern techniques and using olive oil as an ingredient in many different cuisines will be practiced by attendees working in pairs.
The programme includes dinner with wine and lunches – all prepared by participants.
Numbers are limited to 24 so register soon at Savantes and the Cuisiniers
Culinary Savante and Associate Culinary Savante Certification Introduced
During the Savantes and Cuisiniers cooking school participants will undertake a review of their skill in identifying the flavours of extra virgin olive oils in food. Those achieving 18-23 out of 30 points will be awarded Associate Culinary Savante Certification and full Culinary Savante Certificates will be awarded to those achieving 24+ points.
March 21-23 Savantes New York
Back to its time slot earlier in the year, Savantes New York will present the new seasons oils from the Northern Hemisphere. It will also offer tasters the opportunity to undergo Savantes Review and Recognition.
For details of all programmes and registration go to Savantes New York, USA